Israel
and
Signs of the Times
ISRAEL of TODAY
NOTE: If some of the embedded links to web-articles fail to launch, try launching a second time. Legitimate web-articles have been disappearing faster than I can find legitimate articles to replace them.
It is important that Christians have a deep love and concern for the Jewish people, however to do this it is important we are knowledgeable concerning who the true chosen of God are and what is the true Israel of 'today', why having this knowledge is answered in
Matt 16:2-3
"...He replied, When evening comes, you say, 'It will be fair weather, for the sky is red,' and in the morning, 'Today it will be stormy, for the sky is red overcast.' You know how to interpret the appearance of the sky, but you cannot interpret the sign of the times."
Concerning the signs today in
world population figures
the vast majority of Jewish population still live (preferably) outside of Israel, although many carry dual citizenship and may also be counted by the State of Israel. Of those outside of Israel the greatest majority live in the America's including Canada, the next largest Jewish population is in Asia, Europe, Africa and the Middle East, excluding the State of Israel. Of those who reside
permanently within the present State of Israel
, the exact number cast in doubt (Israel data say 37%),
the majority
today living within Israel are secular in belief and lifestyle.
Many mention the British 'Balfour Declaration' of 1917 as the forerunner of establishing a State of Israel in Palestine, however what this document described to Rothschild was "His Majesty's Government views with favour the establishment in Palestine of a national home for the Jewish people and will use their best endeavors to facilitate the achievement of this object, it being clearly understood that nothing shall be done which may prejudice the civil and religious rights of existing non-Jewish communities in Palestine or the rights and political status enjoyed by Jews in any other country."
Note that this document mentions (only) a home or Homeland, and not a State, however because of aggressive actions by the Zionist were seen as adamantly taking over all of Palestine, the British to redress this mistaken intention by 1938 convened a Woodhead Commission, and in 1939 the 'White Paper' document established a little less that 5% of Palestine as a Jewish State of Israel. The remaining Palestine would be made it's own state with authority to limit Jewish immigration.
It was at this time that three Zionist paramilitary terrorist-groups initially trained by the British turned aggressively upon the British, and by the 1940's after WWII, the British as result turned the entire affair over to the newly formed United Nations. From that time on America became the primary supporter of the Zionist-Gov within the State of Israel. Worth mention is a key member of the Pres-Truman cabinet at a later time wrote and is found today in the Truman Museum archives, that Truman was greatly angered by what he called "hard core Zionist threats."
In the Old Testament in Deutoronmy chapter-28 tells about Gods blessings for the people if they remain righteously faifthful, and of the curses if they rebel and revolt, today in the State of Israel have begun signs indicitive of the later being curses. Today sinkholes are being found in the Dead Sea, the Sea of Galilee has drastically begun to drop, corruption in the government have citizen's believing it out of control, the economy is in serious trouble, the Jordan river is being poluted, and those surrounding them are throwing off government-regime's and beginning to take serious the plight of Palestinians. Fossil fuels thought to be the resolution of Israel's problems is quickly being replaced by depletion of clean water supplies and resourses. The truth about Apartheid in the State of Israel has finally reached the eye's and ear's of some American's, it appears only a short time and Deutoronomy of the second part may fully come to pass.
There is strong reason to believe the 'Rebellious Generation' of scripture refers to rebel portion of Jewish scattered by God. Rabbi and Sage's after the scattering taught for 2000-years (soon after 70AD) that God had imposed three-vows upon the scattered people-Israel. Few are aware of this teaching that was obeyed for 2000 years, that the scattered people were not to attempt re-establishing Israel in Palestine, only the Messiah when He comes will a remnant elect of the scattered people-Israel be brought back into New Covenant and into (eternal) Israel. Yet before this is told of a time when God would return some described in
Deuteronomy 28:68 "The LORD will send you back in ships to Egypt on a journey I said you should never make again. There you will offer yourselves for sale to your enemies as male and female slaves, but no one will buy you." Here the offer of slavery are lies and deception, and this by the wise not accepted.
Devout Jewish of Palestine should not be confused with these Zionist in the State of Israel, what exists as Zionist are predominately a secular and Rebellious Generation, a generation that God has decreed life not exceeding 120 years to be followed with a 'Great Delusion', this is part of the same generational prophecy.
This Delusion or Deception concerns people wanting to believe a lie, and this reminding of a time before Satan being cast and bound into the abyss, in this earlier time scripture says Satan had deceived all the nations. This would follow transition of scripture today, coming toward the end of our present 'Fulfillment of the Gentile', leading into the beginning of the Rebellious Generation, ending as the final 70th-week prophecy is fulfilled. At the beginning of the 70th-week Satan will be released from the abyss, however Satan is not revealed until some time within the 70th-week. During this time however Satan will be ruler over all the earth, a remnant or elect of the scattered people-Israel 'coming out of the Great Tribulation' will then find sanctuary in the Lord. The last half of Desolations will conclude with Gods wrath ending in wars until final judgment.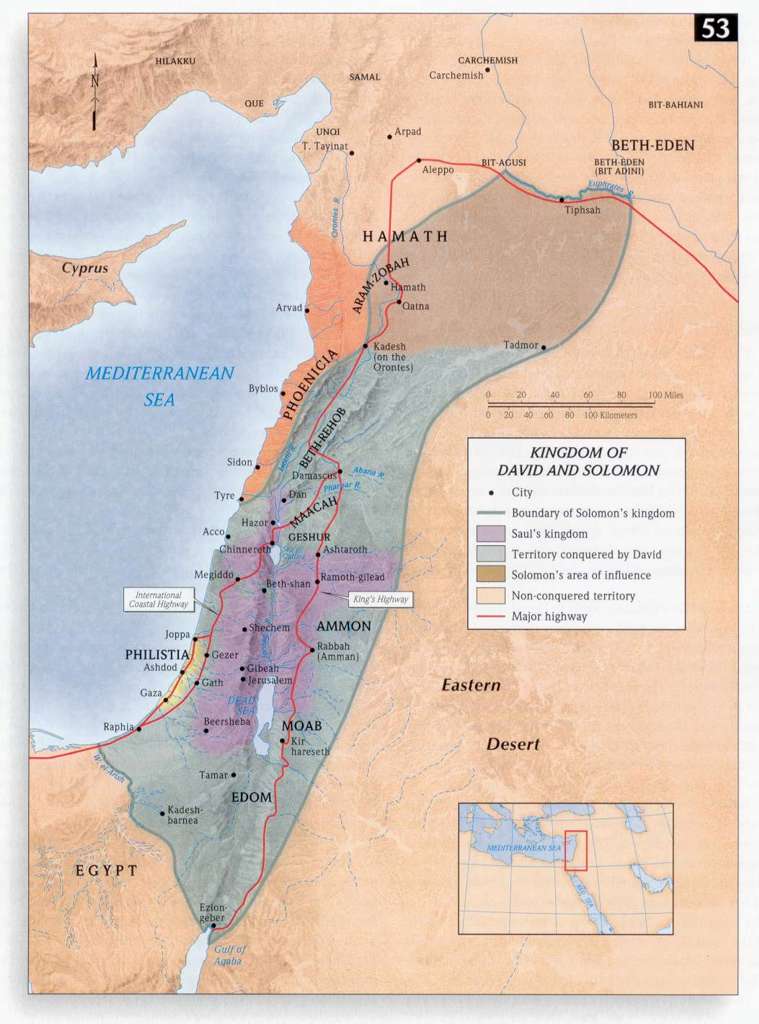 One final map concerns the biblical period of kingdoms, it shows the kingdom boundaries of Israel, this is of interest concerning the allocation's of the Promised Land to the twelve tribes. This map shows the three principle kingdoms of the bible called Israel in this map, it begins with Saul, followed by David, and ends with the largest kingdom formed under Solomon. They are called various names besides Israel, such as conquered land and area of influence. Of interest is that this map shows not one of these kingdoms of Israel had encompassed or occupied all of the Promised Land. A map of the Promised Land as shown earlier had outlined the general land boundaries from which the twelve tribes were to be allocated portions, it was a territory or land mass much larger than the largest Israeli kingdom shown on this kingdom map. During this period of course there were settlements of the chosen that were established in areas not described as Israel on this map. What is certain in the eternal Kingdom to come, the Promised Land eternal will be occupied in full.
Why have Gods chosen people Israel suffered so much down through history. Perhaps it becomes apparent when acknowledged that within such a minority God has blessed so greatly. Perhaps this very obvious blessing is part due their suffering, among these Jewish people are found an astonishing number of important gifts, such as the sciences, medicine, arts, commerce, certainly in the economics of many nations. Also it is the nature of man to envy and hate those having such gifts as though naturally, however the present State of Israel did not begin naturally but from one secular Jewish man gathering a small number of secular Jewish men, these in 1897 after being rejected by Jewish leaders said regarding rejection of re-establishing Israel in Palestine, regardless formed their Zionist Congress with stated goal: "Zionism strives to create for the Jewish people a home in Palestine secured by public law (offentlich-rechtlich)". Certainly true of any people will be found self serving individuals, and among these a few that misuse a gift. Perhaps most troubling of all, from those that use religion and feign belief, this is not limited to a single false religious being evil, among these as heretics are some called Christian. The true story of the people Israel then is found in life both of the good and evil, the obedient and the rebel. Today the signs of the times are that we are in the time of the Rebellious Generation, and this (to me) now evident as having begun around 1897 in denying the Torah and G_d with deliberate goal to re-establish a State of Israel.
This study concerning the Jewish people is to identify the difference between secular Zionists that I believe (in their disobedience) bring sorrow and suffering to many, this later in stark contrast to the true or religious Jewish who have lived in peace and are obedient to God and their Torah. Zionism began as a movement in 1892 by Nathan Birnbaum, it is taken from mount Zion, a name also used to describe Israel itself and God most High. The Jewish that had not left the land and others returning for religious reason to Palestine had lived in relative peace with their Arab neighbors, the history of Israel as a secular Homeland begins in early 1900 with a man named Theodore (Binyamin Ze'ev) Herzl, not becoming a State of Israel until 1947-8. Herzl although a Jew was secular in belief, adopting the Zionist movement to unify the Jewish people into a 'Homeland' of their own, Herzl's 1896 publication of 'der judenstat or Jewish State would appear his true intention was otherwise. Zionism has ever since been not a religious but a political group forming the secular Zionist-Gov of Israel. It was because of Herzl's secular methods and goals for the nation-state of Israel in Palestine that Nathan Birnbaum separated himself from the Zionists, and instead embraced traditional religious Judaism. Zionists continued their efforts in Palestine after the death of Herzl in 1917, with a man named Chaim Weizmann who finally talked the British Foreign Minister Lord Balfour into establishing a Balfour Declaration. This Declaration will later be shown to have been almost totally recanted (in 1938) by British government 'White Papers'.
From 1900-1930 the Zionist stated goal in Palestine was said only for the purpose to form a 'Jewish Homeland', however during this period terrorist methods of bombings and other means were reported used to force Jewish immigration from Arab States and other nations. This terrorism within Arab States forcing Jewish immigration is revealed in a book authored by a young Jewish man involved. Concerning these methods, this is what the leading Rabbi Elchonon Wasserman said in vol. 231 of Das Yidishe Tagblat from 9 Tamuz 1939, R. Elchonon Wasserman said the following when asked about the terror methods of the Zionists: "They (the Zionists) should be considered as persecutors (rodfim) against the Jewish People. It is forbidden to use such methods."
The Torah (first five books of the Old Testament called the Law) along with the book of Prophets and other Writings (called the Tanakh) guides all religious or True Torah Jews, has been understood by Religious leaders and holy men to clearly forbid the Jews from re-establishing Israel. Scripture references to the re-gathering by God are found in Jer 16:14, 23:7, 30:17, 31:9, 33:7, Eze 11:17, 20:34, 28:25, 34:13, 36: 24, 37:21, Micah 2:12, Ps 106:47, Isa 27:12, 43:5-6, 54:7, 56:8 and others. Because the Jewish Torah clearly prophecies only the coming Messiah will re-gather the scattered back and re-establish Israel, it was true from 70AD to year 1900 that there was no attempt by the scattered Jewish people to re-establish Israel, that is until (approximately the year 1917 when) this small number of secular Zionists dropped their Homeland plans in Palestine and began instead a plan for a State of Israel. It should be warned that the Zionists deceptively say they have found ways around this scripture ban that prevents re-establishing Israel.
The Zionists often misquote Romans-13 (submit to authorities) and Genesis 12:3 (bless those who bless you, and curse those who curse you) concerning the new State of Israel. However the authority was God who scattered the Chosen, calling these scattered Chosen to this day as remaining the rebellious. Also concerning the later quote, in this biblical passage of blessing and curse God is actually speaking to Abram (who later is called Abraham). The land named Israel did not exist at this time. Also the man known as Israel (Jacob), for whom the land was named, was yet to be born. Ask yourself concerning Gods promises, are the seed of Abraham (only) Jewish, is Israel and the Promised Land (only) for the Jewish, this is explained in
Gal 3:16 "The promises were spoken to Abraham and to his seed. The Scripture does not say "and to seeds," meaning many people, but "and to your seed," meaning one person, who is Christ", and here one way of Salvation through the Messiah Christ represents all believers. Moreover regarding the true future re-gathering described within both Old and New Testament meaning in full context, here is described a remnant of the scattered after purging those that rebel and revolt against God who are the elect to be gathered into Gods' New Covenant forever within Israel.
The following is what religious or sometimes called Orthodox Jewish obedient to God and Torah say in their statement, "Why Orthodox Jews Are Opposed To A Zionist State"
(these issues will be covered within this article):
— It is openly stated in books written by the founders of Zionism that the means by which they planned to establish a state was by instigating anti-Semitism, and undermining the security of the Jews in all the lands of the world, until they would be forced to flee to their state. And thus they did - They intentionally infuriated the German people and fanned the flames of Nazi hatred, and they helped the Nazis, with trickery and deceit, to take whole Jewish communities off to the concentration camps, and the Zionists themselves admit this. (See the books Perfidy, Min Hameitzor, etc.). The Zionists continue to practice this strategy today. They incite anti-Semitism and then they present themselves as the "saviors". Here are two replies given by Leaders of the Zionists during World War II, when they were asked for money to help ransom Jews from the Nazis. Greenbaum said "One cow in Palestine is worth more than all the Jews in Poland." (G-d forbid). Weitzman said, "The most important part of the Jewish people is already in the land (of Israel) and those who are left, are unimportant" (May we be spared).
As shown in the previous section "Israel of Prophecy", scripture shows that the true re-gathering will be neither to the Israel of this earth-age, or Jerusalem of this earth-age, but to the New Heaven and New Earth upon which will be found the New Jerusalem called the place of righteousness. Paul spoke prophetically saying about the city of Jerusalem in
Heb 13:13-14 "For here we do not have an enduring city, but we are looking for the city that is to come." This prophetic city evident in the White Throne decree and the Lord saying He will make everything new, meaning the New Promised Land in which the New Israel and New Jerusalem will be found. Also concerning the above mentioned 'Authorities', take heed of the command of Christ in Luke 22:26 (Gentile authorities), when faced with conflicting authorities in which one is within the will of God and the other is out of the will of God even though serving Gods purpose, we are not to be as the rebellious, in such a conflict we are to submit to the will of the supreme authority that is God. In obedience the mature Christian in the Lord from this should understand the meaning regarding (proper) respect of authorities.
It should not be necessary to warn against demonizing or anglicizing an entire nation, ethnic, or body of people, yet this appears what often is taught or described as believing in this earth age. God does not judge the good and evil in the very same way, and neither should we. Do not doubt that the Bible commands the new man or spiritual man shall judge in all matters, and to do this the Bible or word of God is that by which we will learn good from evil. To be even more accurate, we are commanded to be as wise as the serpent, and this is what the secular world calls as being informed. Certainly Paul has said not all that call themselves a Jew are a Jew, Christ also warns in
Rev 2:9-10 "...I know the slander of those who say they are Jews and are not, but are a synagogue of Satan." There is no doubt good and decent Jewish people will be found within the Zionist organization, yet as Christ taught, the (corporeal) tree may be identified by the fruit it produces. This study will not demonize the State of Israel where the common people are innocent, but man's error by leaders and other individuals will most definitely be exposed. Concerning the common of Israel, I ask for prayer, because their plight is great.
Generations of Jewish Rabbi and other leaders speaking from the Torah have warned about Zionism. Reading from the Torah they find "God has decreed that before the re-gathering or restoration of Israel, and while scattered among the nations waiting the prophesied Messiah who will re-gather back into Israel, God imposed three vows when he sent Israel into the wilderness: (1) that the children of Israel shall never seek to reestablish their nation by themselves; (2) that they never be disloyal to the nations which have given them shelter; (3) that these nations shall not oppress them excessively (Kesubos 111a)." Rabbi Chaim Soloveichik of Brisk (1853-1918), the founder of the "yeshiva approach to Talmudic study," was frequently quoted by his disciples as saying: "The Zionists do not make Jews heretics in order to have a state, they want a state in order to make Jews into heretics!" Or, as he once wrote: "The Jewish people have suffered many (spiritual) plagues -- the Sadducees, Karaites, Hellenisers, Shabbatai Zvi, Enlightenment, Reform and many others. But the strongest of them all is Zionism." The Rabbi warn that those who reject the Torah, then are not true Jews, and for this reason cannot speak for the Jewish people. Perhaps there should also be the warning from God in
Psalms 127:1 "Unless the LORD builds the house, its builders labor in vain. Unless the LORD watches over the city, the watchmen stand guard in vain."
Jewish leaders true to the Torah warn that Zionist and Jewish are not inclusive nor the same. Secular Zionist are anti-religious being obedient to a secular government, while the religious or true Jewish people are obedient to the Torah and God. Saying also Zionism would denigrate the Jewish holy commitment to God, their purpose with Zionism to instead subjugate the Jewish people under a secular mans government and State. Many today are saying God is gathering the Jewish people from the lands into which God had scattered them, however both OT and NT says only the returning Messiah gathers these scattered peoples. And about these scripture says only a remnant from which the rebel has been purged out will enter the eternal Israel being the New Jerusalem and Kingdom of God. The question then is, who today is gathering Jewish people into the new State of Israel, and for what purpose? Also the term Rabbi for the leaders of the devout Jewish is not proper or correct, about this name Christ said in
Matt 23:8-9 "But you are not to be called 'Rabbi,' for you have only one Master and you are all brothers."
It may be conjecture, but the Zionist movement during 1890's-1916 had no success in advancing their plan among European leaders, until happening finally in 1917 within Britain, it also happening at this time that Britain found interest with Middle East resource of oil-reserves. Britain at this time converting from coal to oil to drive the British Navy. Although Zionists said they only wanted to establish a Palestinian Homeland as safe haven for Jewish people, it soon turned to re-establishing Israel as a State. The Orthodox Jewish warned from this beginning that re-establishing Israel would only add to Jewish suffering, warning that the Torah clearly prohibited man from re-establishing Israel. In the following data gathered in research concerning present day secular Zionist Israel, Rabbi Wasserman will be shown to have been absolutely correct, no where else do Jewish suffer more than in the present State of Israel.
Although many believe all Jewish people sought the formation of Israel, the Rabbinic Jew who are called Ultra-Orthodox for their strict adherence to Torah, warned before Israel was formed the dangers that would result. These religious leaders warn that the Torah does not support either re-establishing Israel or building of a Temple before the Messiah comes. A number of these non-Zionist Jews had lived in Palestine (now including Israel) before the Zionist movement. For this reason the Ultra-Orthodox Rabbi forbid involvement in elections of the Zionist Congress and government, calling it a sin. The secular Zionists who formed and now control Israel are not religious, they disclaim the scattering by God and instead use religion and anti-semitism deceptively as a weapon. In the early years of Zionist immigration practices, not all Middle East Jewish immigrated into Israel under conditions willingly. The Christian organization supporting this Zionist or radical Jewish leaders of Israel are often called Christian Zionist's, these are misleading many main line Christians into believing God today is re-gathering the Jewish people into the new State of Israel.
To understand the problem of deception concerning Palestine and Israel, including Middle East and especially Iran, it is necessary to separate in your mind Jewish people from Zionism that controls Israel. An example of how this relationship is deliberately made confusing to detract from understanding, within Iran a population of well over 25-35,000 religious yet "non-Zionist" Jews live today in Iran (including over 250,000 Christians), all guaranteed protection even under the Shi'a Islamic leader Ayatollah Kohemeni. In year 2006 the President of Iran Mahnoud Alamadinejad repeated a statement of Ayatollah Kohemeini who wanted to see "the Zionist regime in Gods' City disappear from the pages of time", to which the Western Media deceptively reported Iran's President said he wanted to "Wipe Israel off the map". Western Media then dutifully reported the lie that Iranian Jews have to wear a yellow 'Star of David' on their clothing. Seldom is reported many religious Jews still living within Arab nations, Iraq also having a Jewish population and history. Shortly after the beginning of Zionism, statements of Zionists revealed a nature of deception and aggression known today as 'False Flag Operations', and these continue to this day although seldom reported.
An interesting side fact, the Shah of Iran with his nation near revolution by 1978 because of his SAVAK Secret Police atrocities, discovered he had life threatening cancer. While still head of State in 1979 the Shah abdicated his Office as President when he and his family boarded a plane for Western cancer cure (but instead in 1980 ends up in Egypt where he dies of cancer). With the Shah abdicating his Presidency to an interim President, there soon followed elections that overwhelmingly established an Islamic Republic, Western media claiming the Khomeini overthrew the Shah is typical of twisted reporting by Western and American Media. With that as start, you might also remember in Biblical times how those we call Arab today after conquering the Jews, later assisted the Jews return to re-establish and rebuild their own land and Temple. This same assistance happened in more recent history (Spanish Inquisition), when escaping Jews were offered sanctuary by the Middle East Islamic. Example of historic interest is that within Tehran, Iran is a Jewish cemetery, and here is found the grave for the grandmother of Moshe Dayan.
Orthodox Jews are a minority sometimes called Torah True Jews, these denounce the radical Jewish Zionists also a minority who control Israel. Zionist's hold an unusually greater power within Israel government, these should be considered separate from the secular Jewish majority, neither however honoring in obedience God or teachings of the Torah. Middle East Christians share this same view that the Zionist minority and Christian Zionists are bringing disaster to everyone. Both of these Zionist's in actions are similar to Zealots of Christ's time and Crusaders of more recent times, both accepting the practice of inhumane methods as justified whenever and wherever needed. Orthodox Jews claim Zionists from earliest times began and agitated Antisemitism against Jews to promote forced immigration.
This deception is similar to Covert Agencies used against their enemies. Recently found were torture center's within Israel and Lebanon, continuing despite an Israeli 1999 law banning torture. Many individual's report being tortured while their charges are ignored by Israel Courts. Charges were recently made that an Israeli agent was involved with America military in the Abu Ghraib prison in Iraq. In all the Zionist government of Israel has gone through many divisions and revisions over the decades since it's inception, however it remains essentially unchanged except the scope of intended territory they initially intended to seize. I strongly believe that the secular Zionist government of Israel as formed and remaining today, continuing their aggressive ways of Apartheid and worse without media revulsion in America, shows the control they have in America and among spiritually blind Christian leaders.
Before the Ottoman Land Code of 1858 requiring the registration according to owners of Palestinian land, most had never been registered and had previously been treated according to traditional communal forms of land tenure, in the hill areas of Palestine generally masha'a, or communal usufruct. The new law was essentially ignored by the peasant's who continued their old communal method, however meaning that in more recent history a peasant from this communal period could be deprived not of title to his land, which he had rarely held before, but rather of the right to live on it, cultivate it and pass it on to his heirs, which had formerly been inalienable. Instead, members of the upper classes took advantage of this communal situation in manipulating or circumventing the legal process, registering large areas of land as theirs. The peasants considering the land to be theirs discovered they had lost legal ownership when the land was sold to Zionist financial organizations by an absentee landlord. Today a somewhat similar legal manipulations are used to displace many more Arab Palestinian who had lived on these lands for many generations, but today cannot return to or re-purchase the lands they lost.
To believe the common or devout Jewish population in Israel suffer due to conditions self-made would be a serious error. Suffering began in Palestine when the Zionists initiated what at first they deceptively called a Homeland, and in earnest when the UN began the State of Israel. Before this were generations of Jews that had never left a land now called Palestine, including others returning for religious reason to lived in peace, these in earlier times referred to themselves as true religious Jewish. In this earlier time Jews had maintained a connection with Palestine, both actual and spiritual, the Jewish community in Palestine grew during this period of Muslim rule, and were estimated by 1000AD to be a population of about 300,000. Of these more recent Jewish immigrants, many came with vision to fulfill a dream of their Judaic beginning. However during the Crusades of which there were eight beginning in 1095 to 1272AD, many Jewish were killed by the crusaders starting from Europe continuing into Jerusalem, this called by many Jewish as the first holocaust. After this period of hatred Jewish settlements failed one after another throughout the Middle East and Palestine, this due to both natural and man made disasters. It isn't until late 1800's when an unbelieving Jewish man named Herzl forms a Zionist ambition of a homeland for the Jewish people.
In this period before 1948 there was no State of Israel, these Jew's simply called Palestine as a Homeland. In this earlier period they lived within Palestine in peace with their Arab neighbors. This changed after Dec, 1922 when League of Nations gave Britain control. The League of Nations if anything was a tool to place the Middle East with Palestine under British control. The rekindling of strife within the Middle East goes back to the secular Zionist movement beginning in late 1800s, intensifying in the 1900's when Britain promised Arab peoples reward to defeat the Ottoman Empire, after which the British Empire stepped in without reward and fulfilled "the sun never sets on the British Empire."
Problems began in the Middle East as result of statements made by Zionist leaders of plans to acquire all of Palestine by displacing the inhabitants, and when in mid-1930's immigration suddenly increased, the result was sporadic guerilla attacks. Yet it was not until 1946 (with America becoming dominant) when the League of Nations dissolved in failure, that Palestine-Israel blossomed into all out war. Precisely it was in 1947-48 this area was fanned into flames, this occurring when the United Nations decreed that 55% of Palestine would be Israel as a State. This was rejected by Arabs thus beginning the Middle East wars of division and revenge. This war displaced many Arab or Palestinian who fled to bordering nations predominantly Lebanon, what little remains of Palestine and its people to this date still being refused recognition by the UN as a State. It was primarily because of what Pres-Truman called Zionist vicious threats that US-Gov and Pres-Truman at that time agreed to the formation of a State of Israel in Palestine. An example today is Offices in the State Dept for Middle East Affairs controlled essentially by people of Zionist affiliation. The composition of the UN (five Permanent Members) might surprise some, two nations (Russia & China) were communist, two nations (Britain & America) were democracies, and one nation (France) is considered by many as Socialist.
To understand the UN purpose in 1948 of setting up Israel requires understanding how and why this UN agency was first formed. The obvious difference was that by 1943 a different League of Empire-Nations existed as Super Powers. Another important fact concerning the formation of the UN by five (5) Permanent Members, these Super Powers determined to give only themselves important Veto Powers. These Super Powers or Empires of Old by giving themselves as Permanent Members the (only) 'Veto Powers', insured in this way that they would have no less than total control over its operations. As today is evident, the Permanent Members using their power through bribes and threats are able to direct the other 190 minor-nations in whatever ambitions the Super Powers are interested.
It is obvious that United Nations is and has always been completely controlled by these five Super Power nations, severely limiting fair representation considering a total of 191 nations are members. These five (5) Super Power nations initiate or control essentially all-important operations of the UN. A separate reading of only US-Gov 'Veto' will show a continuous domination over the interests of lesser nations and people. For the UN to succeed beyond the domination practices of these five Permanent Members nations, their veto powers must be ended, the much-espoused "Democracy" (in words only today) must include all UN members as equally as possible.
It is an interesting fact that although the UN established lands and recognized the new State of Israel back in 1947-48, to this date the UN has not recognized Palestine as a State. In 1994 the PLO under Arafat established the Palestinian Authority as an operating government, however today only 94 Countries recognize the existence of the Palestinian people having a legitimate government. Some use this point to almost exclude that Palestine was ever populated, maps show however the historic lands of Palestine, and before 1947 there being no Israel located on same maps. It is true that the land of Israel were renamed Palestine around 70AD, this is when the chosen or Israeli people were scattered into other lands and nations. What is often misunderstood about this land, is belief that this land belongs to the people of Israel, this contradicts God who states they also are aliens, declaring such in
Lev 25:23-24 "The land must not be sold permanently, because the land is mine and you are but aliens and my tenants." Expanded as all of creation told of in Ps 24:1-2 "The earth is the LORD's, and everything in it, the world, and all who live in it; for he founded it upon the seas and established it upon the waters." The Palestine population after scattering of the chosen, are those who were still considered the original Cannanites, these continued as nomadic yet often called illegal aliens; these rarely if ever saw a census taker. Undercount of Palestine population goes back to the Ottoman Empire.
After the scattering of the chosen and into periods closer to more recent history, much of recent Middle East history concerning Western dominance remains well hidden, this includes decades of bondage and death while under this Super Powers control. This suffering continues to this day, and of interest all Western Powers continue to deny permitting recognition of Palestine as a State. Of these Old Western Empires America is included, it being primarily neighboring Middle East Arab nations and people who recognize Palestine as a self-governing nation. Today there are about 1.3 million Palestinian's living in Israel, and until very recently about 450,000 Jews living in the West bank. Maps covering a time from 1946-2000 show a literal depopulation and confiscation of Palestinian lands by the Zionist government of Israel. This literal act of forceful removal to separate from Arabs is rightly being called "Apartheid." Both Palestinian Arab Muslim and Christians have been unsuccessful for many years seeking to bring this grievance before the world.
Prior to WWII only a few Jewish people immigrated to the Middle East, during WWII European Jewish people fled to safe nations for refuge. After WWII in 1945-6 displaced Jewish people who were left without home or nation, these homeless traveled the seas by shipload looking for a place to land and begin anew. At each of the many port's they stopped however, these homeless were unwanted, being forced to turn around and seek other ports of acceptance. It was finally in 1947 that the body called the UN established Israel as home of displaced Jewish peoples. In so doing, resulting in wars displacing Palestinian's who had been occupying this same area, the displaced fleeing into neighboring nations who grudgingly set up temporary holding centers. Prior to this event (in 1920-30) Jewish immigrants moving into this region purchased lands on which they settled.
Some point out the British 1917 Balfour Declaration as the forerunner to settling displaced Jewish people into the Palestine region, at the time an area under the control of the Ottoman Empire. This was also a time when the Ottoman Empire ended in a war that British enlisted Arabs with promises not kept, and the emerging of the British Empire taking control of the oil-rich regions as a protectorate. Britain in early 1900's decided it needed the Middle East, oil was at this time displacing coal to power the British navy.
At this time the Balfour declaration was little more than words, although Britain controlled and illegally colonized a small number of Jewish immigrants. This declaration was a conciliatory measure, seen by some as a political move during the treasury drain and turbulent period of WWI. During 1920's to 1930's about half a million Jewish people were immigrated to the Palestine region around Israel. As a result of increased Israel population in Palestine, Arab/Israel guerilla warfare was common from a period of about 1936-39. It was not however until after WWII that any of the world Super Powers deemed action be taken, during this period Arab/Israel fears continued, the purpose in 1947 of Britain turning this affair over to the UN (under Super Power control) was supposedly because breakdown in Arab and Israeli negotiations. However, that world war-II had impaired British empire abilities might probably be more accurate, this and the American Empire was beginning it's dominance.
In 1920 the US Congress had passed a resolution 'endorsing' the Balfour Declaration, but again it was all words, it was not until 1947-48 that Britain turned the Israel/Palestine problem over to the UN. It was the United Nations who assigned 55% of Palestinian lands over to be established as the Jewish State of Israel. Arab's rejected the resolution which began the Arab and Israel war, Israel the victor then claimed about 78% of Palestinian lands. Over 725,000 Palestinian's sought refuge in nearby lands, mainly Lebanon. Following the war, the Israeli government began forcibly removing Palestinian's from their lands. It also severely restricted Palestinian civil liberties and participation in the national economy. Harry S. Truman was President at the time the UN decided to form a State of Israel out of Palestine, this is what Truman later wrote "The White House, too, was subjected to a constant barrage. I do not think I ever had as much pressure and propaganda aimed at the White House as I had in this instance. The persistence of a few of the extreme Zionist leaders—actuated by political motives and engaging in political threats—disturbed and annoyed me."
Perhaps the full story will never be known considering it is little known today, but by 1939 Britain did an about face concerning the Balfour Declaration, and instead published their 1939 White paper that ended what they described as a mistaken impression of converting Palestine into an Israel State. Keeping the small Israel partition established during British Colonization, but proposing an independent Palestine State be implemented by 1949 and controlled by Arabs. Previous White Papers had stated that the 1917 Balfour Declaration was not a British endorsement of actual Jewish statehood in Palestine. In January 1938, the Woodhead Commission had been established to explore ways to implement the recommendations made by the Peel Commission (1936). The report of the Woodhead Commission was published on November 9, 1938. The idea of partition was upheld, but the proposed Jewish state was to be substantially smaller, receiving only the coastal plain.
One of the very first acts of the new Zionist government of Israel was throwing out the limitations of the UN and Balfour declaration established by Britain. Thus began a period of 1948 to 1967 when nearly 400 Palestinian villages were completely razed, during this period almost all farmland owned by Palestinian's was through military and legal manipulation confiscated. Palestinian farmers were left with only small parcels of poor land. By the 1970s, more than half of it was in the Negeb desert region. A world map prior to 1947 gives an idea of Jewish/Arab population before this time period. Of the 750,000 Palestinian's that were forced from their homes in 1948, some 50,000 were Christians, 7 percent of the total number of refugees and 35 percent of the total number of Christians living in Palestine at the time. Christian leaders of Israel have reported persecution by the Israel Zionist government and military since 1948 to the present, with many Christians driven out of Israel to neighboring nations like Lebanon. A more damning research would be into the US-Gov involvement in the 1976 Israel/Arab war, US-Gov operation code named Operation Cyanide - Frontlet 615 and 303 Committee.
By year 1949 Israel even though by now expanded in territory held according to world population figures only 5.6% of the world total Jewish population. By year 1973 after much more expansion of territory one Arab nation 'Egypt' decided to recognize Israel, as a result having the Sinai returned to them. By year 2000 according to international population figures, something like 17-19% of the total population of Jewish people were now permanent residents in Israel. Verifiable data such as Israeli/Arab population in the region of Palestine is very suspect, some believing the Israel 37% population figure and Arab/Palestinian population figures are both deliberately inflated, the reason being partisan politics involving this area.
Some contend that the "Zionist" lobbies both in Britain and America forced these two nations to restrict resettlement of displaced Jews only into Israel or Palestinian region of the Middle East. This is belied by the fact only a specific and small number of Jewish people; initially those financially capable, or those so poor that immigration into the new State of Israel would provide a better life. The greater majority or about 80% of the Jewish population before and since have settled into other regions of the world where few choose to leave. This small portion of Jewish population that chose to settle into Israel have ever since existed on a day to day basis.
Some of the resettled Jewish people now in Israel may have experienced racial problems when living in previous nations, yet are the unfortunates who in fact now serve a pre-intended purpose, perhaps best described as bodies to fill in confiscated Palestinian properties. Today these are increasingly describing themselves as in a prison, a prison they cannot leave. A question regarding this prison, is the legality regarding this resettlement, this being whether any organization even the UN or Israeli Zionist government has the right to claim lands not belonging to them, immigrating others who are given ownership, especially when it required displacing a people from these very lands. Israeli soldiers have formed 'Breaking the Silence' where-in 500 recently testified to indefensible corruption required of military against Palestinian citizens. Today the Israel government has a rule of "Right of Return" for the Jewish, almost all who have never lived in Palestine or Israel, and deny this same right to the Arab/Palestinian who were forced or fled for any reason, and then reported as absent from their own land that is confiscated. An interesting turn of events is, that many of those returning although qualifying as a Jew, are not Jewish.
The greatest problem facing the Jewish people today in Israel appears not to be the state of Israeli boundaries, nor is it Jewish population that shows a modest growth. The growing Israel population itself is a positive, considering that in most other locations around the world their population is actually shrinking. Despite the heroic effort to immigrate more Jewish people into Israel, it is not offsetting the greater Arab growth of population among and surrounding them. As stated by an important Jewish political leader in Israel, who said, "It is poverty and inequality that were becoming the country's most serious strategic threat, not its neighbors."
Recent heroic efforts to emigrate Jews from poorer areas of Russia, Ethiopia and Arab states today is adding to Israel's welfare costs, also further aggravating an economy already reported in serious trouble. In fact most of the Holocaust survivors and as much as 1/3 of the children today living in Israel are said to be living below the poverty level, and these conditions despite massive aid from Western Nations like America (est. at $1.6 trillion since 1975) is stated as expected to become worse. Unemployment is also cause of a brain drain as educated people leave Israel looking for jobs. Many previously immigrated Jews are now frustrated with the rigidity of secular Zionists in power and have begun leaving Israel for America's and Europe, or even returning to Russia. If this is in fact true, the re-emergence of Israel as the Homeland or State of Israel may in fact not occur, made worse by evidence that a confrontation is building with neighboring Arab (peoples). Included as an additional problem; at least for Israeli Jewish and Middle East Arabs, being the continued destabilizing by Western Powers for geopolitical dominance and Empire.
Jewish organization's rarely heard about in Israel and around the world working for peace are the ICAHD, the international Neturei Karta, the Sabeel Ecumenical Liberation Theology Center, the PCATI, and others like Gush Shalom who have been thwarted at every turn in trying to stop inhumane practices and instead develop outreach for peace in the Middle East. Corruption within the Israel government and leadership is described as becoming a greater problem every year. A problem so sinister in Israel no one will mention is organized crime and corruption within and working out of Israel. Crime families in Israel much like the Mafia, with tentacles today reaching into other nations. Israel today is much like the US with inequality and corruption that has caused serious problems, and despite serious debt putting out deceptive reports like Americas booming economy, yet as in Israel where most citizens are left out and in fact see worsening living standards. Many Israeli citizens today are voicing concern that gov-corruption is epidemic and out of control.
The 'Jewish Week Publication' of New York in 10/7/05 reported "Statistics released this summer showed Israel's murder rate shot up to 4th among Western nations, with more Jews murdered by other Jews than by Palestinian's." This organized crime outreach has already moved into America, Las Vegas and Florida recently being in the news. Perhaps the greater criminal condition concerning Israel is not those by law that are illegal, but instead the immoral and criminal operations that are in fact government sanctioned. In year 2005 a group of 300 former IDS Israeli soldiers came forward reporting "moral corruption" in which they routinely carried out "deterrent gunfire" orders firing into Palestinian areas without a strategic target.
In the recent attack of Lebanon, the events leading up to the attack may prove it was begun under false premises, the two Israeli soldiers may actually have been captured inside Lebanon, the Israeli tank involved still in the Lebanon location. Also in the Lebanon attack, among the arsenal of US supplied weapons used by Israel were phosphorus, cluster plus Depleted-Uranium bombs, and disfiguring chemical or agent that are all banned by the Geneva Convention. Despite being our ally are charges made of very aggressive Israeli spying in America, also excessive influence within US-Gov involving foreign policy. There is also viable concern and suspicion that radical Mossad Snipers with special video recorder mount on scope within Iraq may be shooting US Troops, the suggested purpose is well known (False Flag operations) in this case to incite lethal reactions of our troops in Iraq.
Significant to understanding these Zionist leaders is the Babylonian Talmud, from the Talmud the Zionist take teaching of traditions out of context and some specious text to effectively displace Jewish Torah Law, Zionist leaders speaking of Arab or Gentile as dogs and subhuman would be example. The Talmud was incomplete and in oral tradition at the time of Christ although commented upon, later committed to writing, and this explaining references demeaning to Gentile Christian's and Christ. About these traditions Christ gave warning in
Mark 7:9 "And he said to them: "You have a fine way of setting aside the commands of God in order to observe your own traditions!" The State of Israel is then called a Democracy, although Israel is controlled by it's secular Zionist founders in what would more accurately be a Secular Theocracy, and the law for this reason is secularist with primarily excerpts of Talmudic law instead of Torah Law. For those familiar with teachings supposedly found within the Talmud apparently in contradiction of the Torah, this explains how the special class of Zionist or Talmudic Jew or Rabbi may hold others in denigration, Talmud excerpts supporting what would by devout Jewish tradition and Torah Law be a sin against God. In this context it is not wrong for them to lie and use severe pretext including method to accomplish the eradication of Palestinian along with border lands they plan to acquire, and this by any means.
It takes no imagination to see the hostility caused for many people within the Palestine region being forcefully displaced to insert another people. Some say the people previously living in this Palestine region would not have moved, it is more likely had the Super Powers been guided justly giving each displaced fair recompense also providing satisfied resettlement and security, it is more likely hostility would not have flamed as it did. It is true some refused to sell their land to Jewish agencies, however it is more probable that the method used for displacement had a deliberate and specific purpose, being a success considering Empire policy having need of an Israel State that immediately became a destabilizing agent. Empire mindset apparently believing that factions are more easily controlled when kept fighting one another. Empire had greased (or oiled) the skids of (their own) success in the Middle East, Zionism in their own way using Empires.
Another important fact concerning this area is Russia, the one who once was thought to be the Biblical reference to Gog and Magog, Gog being the Northern people who would attack Israel. The danger today for Israel is instead former Southern satellite states once belonging to Russia now found above Israel, and these being Muslim people who have been conditioned to wish that Israel did not exist. Magog then are the Empire Super Powers who in end times create a Gog wanting vengeance upon Israel. Russia and Israel today have a common interest and are setting up an operation between them; this is the oil reserve of Russia and Iraq (and perhaps the Caspian Basin). If anything, world events now show that in setting up these conditions mans own evil will eventually bring forward the events prophesied in the Bible. Had in fact the evil Magog Empires as prophesied not been turning ever more toward evil, these conditions that produced Gog would not be meeting what the Bible calls the signs of the end times.
Today America is perhaps the only nation preventing the destruction of Israel, and America if you've followed its demise has all the signs of total collapse. I won't go into the house of cards and manipulated debt that will be our downfall. Ask an expert in world markets and Notes of Exchange, also about total debt that works out to over $500,000.00 for each American household, while Americas infrastructure has been sold or out-sourced for production in factories of 3rd World locations rich in resources and very cheap labor.
To read the conclusion end statement of this study... Click here
---
RtPriceTag@comcast.net
| Return to Top | Return to Index of Articles |